About the company
TRAINM is Europe's most innovative neuro-rehabilitation clinic. They deliver measurable recoveries and aim to help people with neurological deficits, even when they have been told no recovery was possible. KOIS invested in TRAINM in 2016, believing in its innovative and comprehensive approach to neuro rehabilitation.
Targets children and adults suffering from neurological and orthopedic disabilities
Compassionate care focused on physical, social and mental wellness
Specialists state that up to 1 in 3 Europeans will suffer at least once in their lifetime from a disease affecting the neurological system. This leads to great human suffering and restricts the independence of those suffering from these diseases as a result of disability and the need for care.
TRAINM is an outpatient neuro-rehabilitation clinic for children and adults with a broad range of neurological and orthopaedic disabilities. Therapy is based on neuroplasticity, reducing neurological deficits from injuries to the brain and spinal cord. Patients receive on average 1,000 movements per session, 20 times more than con- ventional physical therapy.
Patients who do not have the financial means to receive outpatient treatment at TRAINM may be eligible to receive assistance from the TRAINM Foundation.
In 2016, KOIS invested in TRAINM because of its potential to offer life-changing therapy to people who otherwise would not have a viable chance of recovery. Initiatives like TRAINM bridge the gap between discoveries made in research laboratories and the patients' needs.
Note: Last updated April 2020
Discover our other projects
BeCode aims to tackle the digital skill gap and unemployment issue all at once. By offering intensive digital training to vulnerable populations, this Belgian NGO already managed to put 65% of its trainees back to work.
From 2020 to 2025, BeCode will receive financing through a Social Impact Bond structured by KOIS. Actiris, the Brussels Employment Agency, will act as the outcome funder. The funding will support the training an additional 450 beneficiaries, with a focus on non-EU immigrants and women.
GIST Impact is a technology enabled impact measurement company. Their mission is to become the world's leading Analytics, Solutions and Insights firm. This way, they want to help their clients discover, measure, value and manage their externalities' impact, and thus make more sustainable decisions.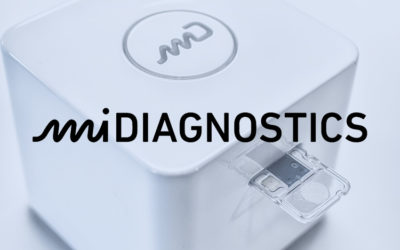 Today, ensuring a fast diagnosis of the high number of patients to avoid transmission is critical. Unfortunately, diagnoses are highly time-consuming and hard to get for people in more remote areas. In fact, most accurate diagnostics require drawing blood, sample preparation & lab work. This can result in a long time between testing & treatment. It also means patients cannot be followed-up at home and that carrying out fast & accurate testing in the field is very difficult.