Project details
Sight issues creates problems from social exclusion, to difficulty to integrate the job market and to access education. These can be exacerbated in developing countries. Yet, 75% of the visually impaired have a preventable or treatable condition. To help in solving this issue, Light 4 the World sets up ophthalmologic clinics in developing countries. In this context, LFTW engaged KOIS to support the scale-up of their activities in the Democratic Republic of Congo.
An issue with hope
Poor sight is not only a health issue. It also excludes people from key life-changing opportunities such as education and productive employment. Around the world, 217 million people suffer from moderate to severe visual impairment. Aditionnally, 36 million people are blind. However, more than 75% of these cases are preventable or even curable. All they required is surgery or the right pair of spectacles.
The DRC has some of the worst rates of visual impairment in Sub-Saharan Africa. Their visual impairment prevalence is estimated at 4,7%. This mainly results from a blatant lack of quality eye-care. There is a severe shortage of trained medical staff, with only one ophthalmologist per 1 million inhabitants. Adding to this issue, 75% of ophthalmologists are located in the capital, Kinshasa. As a result, the DRC ranks 100th of 102 countries worldwide as to its cataract surgical rate.
Yet, people who have their sight restored can get back into society. They can (re)gain their autonomy and contribute to the wealth of their communities. Furthermore, research estimates a potential benefit of eliminating avoidable blindness in the developing world of at least $517.1Bn. This far outweighs the additional required investment of $218.2Bn (i.e. $2.20 of additional investment on top of what the current spending on eye care, per capita per year for 10 years).
percentage of visually impaired people living in low and middle income countries
of visually-impaired children do not go to school in developing countries
Light for the world: setting up Eye clinics in Tanzania, Rwanda and the DRC
Light for the World (LFTW) Belgium has over 20 years' experience in eye care in Tanzania, Rwanda and the DRC. The organization has a strong track record in curing preventable blindness and visual impairments. In the context of the DRC National Plan for Eye-Care and Vision, the Ministry of Health mandated Light for the World Belgium with a specific mission. LFTW now has the mandate to provide eye-care services in the 9 Southern provinces of the country.
Since 2018, KOIS is supporting LFTW Belgium in the consequent significant scale-up of its eye care activities in the region. KOIS made recommendations on the integration of strengthening elements. The aim is to improve the operational efficiency and the financial self-sustainability of existing and future centres.
Furthermore, KOIS is also exploring potential blended finance models to finance LFRW Belgium's scale-up plan in South DRC.
The optimization of Light for the World Belgium's operational footprint in the DRC will enable the NGO to improve the self-sustainability and overall impact of its existing and future centres. In the current efficiency-driven context, this is a necessary step to help LFTW raise significant donor funding and/or return-seeking capital to finance its scale-up strategy in South DRC.
Expected Impact of the SIB
ophtalmological centres built in each province of the South DRC
Increase of current surgical capacities
Increase of current consultation capacities
of cataract surgeries with a positive outcome
Célestin and Jacques, two young brothers living in Lubumbashi, were completely blind. Because of their visual impairment, the children couldn't go to school and their mother, Lorriane, was prevented from working.
One day, at a mobile clinic near their home, a nurse diagnosed the two boys with cataracts and explained that a simple operation could cure them of the disease and restore their eyesight. Lorriane then learned of the existence of an ophthalmology clinic in Lubumbashi supported by Light for the World. She immediately took her two children there. On the spot, the local ophthalmologist performed an operation on Célestin and Jacques.
The children had to go back regularly to the clinic for visual therapy sessions. These allowed them to stimulate and develop their vision. They trained each eye separately and used glasses to see at a distance.
Thanks to these sessions, Jacques was able to regain good eyesight. But Célestin's vision declined again. In fact, sometimes the capsule that supports the artificial lens placed during the operation becomes opaque, a phenomenon called secondary cataract.
Fortunately, the boy was then treated within seconds with a Yag laser. The procedure allows the ophthalmologist to clean the opacification by making a small opening in the capsule. This time, mission accomplished: Célestin immediately regained good visual acuity!
I am very happy with the hospital; they are good doctors and therapists. As soon as the problems in the eyes of my sons are completely solved, I will take care of registering them at school. They have never been to school before, but that will change!
Discover our other projects
BeCode aims to tackle the digital skill gap and unemployment issue all at once. By offering intensive digital training to vulnerable populations, this Belgian NGO already managed to put 65% of its trainees back to work.
From 2020 to 2025, BeCode will receive financing through a Social Impact Bond structured by KOIS. Actiris, the Brussels Employment Agency, will act as the outcome funder. The funding will support the training an additional 450 beneficiaries, with a focus on non-EU immigrants and women.
GIST Impact is a technology enabled impact measurement company. Their mission is to become the world's leading Analytics, Solutions and Insights firm. This way, they want to help their clients discover, measure, value and manage their externalities' impact, and thus make more sustainable decisions.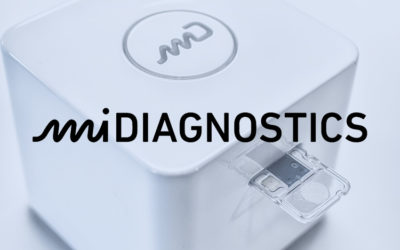 Today, ensuring a fast diagnosis of the high number of patients to avoid transmission is critical. Unfortunately, diagnoses are highly time-consuming and hard to get for people in more remote areas. In fact, most accurate diagnostics require drawing blood, sample preparation & lab work. This can result in a long time between testing & treatment. It also means patients cannot be followed-up at home and that carrying out fast & accurate testing in the field is very difficult.