Project details
In the Brussels region, there are close to 60,000 long-term (more than 24 months) unemployed people. This can have devastating effects. Long-term unemployment causes persistent poverty and reduces self-esteem. In addition, it comes at a high societal cost. In 2017, Actiris (the Brussels Employment Office), selected KOIS to investigate the feasibility of another Social Impact Bond. This time the bond should benefit the long-term unemployed.
Long-term unemployment: a vicious circle
Long-term unemployment can have disastrous effects on people and for society as a whole. The longer people are out of work, the more their skills and social networks tend to erode. This sends them into a downward spiral that makes it ever harder to find a new job.
probability to find a job within a year among long-term and low-skilled unemployed persons
The IOD method: PROACTIVELY ENGAGING SMES TO CREATE NEW JOB OPPORTUNITIES
KOIS and Actiris identified an innovative approach that was being implemented in the municipality of Forest: the IOD (Intervention sur les Offres et les Demandes; Intervention on Offer and Demand) methodology.
This unique method came to be in France about s20 years ago. It requires proactively engaging with SMEs to create new job opportunities. Additionally, it acts on specific points of professional exclusion such as discriminatory recruitment methods and the surge of short-term and part-time contracts.
The pilot for Brussels was started in July 2015 by the 'Mission Locale pour l'Emploi' in the Forest borough. They had a four-people team, and their results have been remarkable.
47% of the enrolled participants have signed a long-term employment contract.
Most of these positions would not exist, if it wasn't for the IOD team's active engagement with the employing companies.
By banning CVs and helping small enterprises define their recruitment needs, the IOD method precludes discrimination and helps grow the jobs market. Its results fly in the face of those who take for granted the end of the job market for unskilled workers.
Expected Impact of the DIB
beneficiaries by the end of the SIB
job contracts signed for a period of at least 90 working days
success (contracts signed) rate, vs 19% for the control group
Broad roll-out of the method thanks to proof of success via the SIB
Discover our other projects
BeCode aims to tackle the digital skill gap and unemployment issue all at once. By offering intensive digital training to vulnerable populations, this Belgian NGO already managed to put 65% of its trainees back to work.
From 2020 to 2025, BeCode will receive financing through a Social Impact Bond structured by KOIS. Actiris, the Brussels Employment Agency, will act as the outcome funder. The funding will support the training an additional 450 beneficiaries, with a focus on non-EU immigrants and women.
GIST Impact is a technology enabled impact measurement company. Their mission is to become the world's leading Analytics, Solutions and Insights firm. This way, they want to help their clients discover, measure, value and manage their externalities' impact, and thus make more sustainable decisions.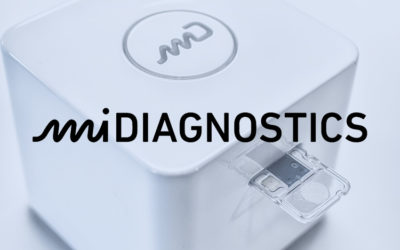 Today, ensuring a fast diagnosis of the high number of patients to avoid transmission is critical. Unfortunately, diagnoses are highly time-consuming and hard to get for people in more remote areas. In fact, most accurate diagnostics require drawing blood, sample preparation & lab work. This can result in a long time between testing & treatment. It also means patients cannot be followed-up at home and that carrying out fast & accurate testing in the field is very difficult.