Financing sustainable land use: Unlocking business opportunities in sustainable land use with blended finance
January 18, 2018
Project details
Growing demand for food and energy is putting increasing pressure on land, threatening our planet's natural resources. There is an urgent need to shift towards more sustainable practices when it comes to agriculture, forestry and land use in general. In 2017, the Blended Finance Taskforce commissioned KOIS to develop a study on financing sustainable land use (SLU). KOIS also demonstrated the essential role of blended finance in this shift.
Sustainable Land Use can relieve pressure on our planet's resources
Sustainable Land Use (SLU) protects the climate by reducing carbon emissions and preserving nature's vital carbon sinks. It averts or mitigates deforestation, degradation and carbon-intensive agriculture. All the while, SLU provides safeguards for meeting increasing human needs for food and fibre, as well as a habitat for biodiversity. Such practices have been studied before and are rising in importance.
In fact, agriculture, forestry and other land use (AFOLU) sectors still remain major contributors of Greenhouse Gas (GHG) emissions.
Worldwide, growing demand for food and energy is putting increasing pressure on land. This greatly threatens our planet's natural resources. Studies show that inaction could generate tremendous economic and social costs. It would lead to reduced food security and increased rate of climate-change-related natural disasters and damages. In this context, we need to find new ways of financing sustainable land use, to bring about the needed change.
Financing Sustainable Land Use with blended finance to help our systems make the shift
There is an urgent need to shift towards "natural climate solutions" and sustainable land use practices. Particularly in forest conservation and sustainable agriculture activities, which have great carbon mitigation potential. For instance, halving deforestation rates by 2030 would enable to reduce GHG emissions by 1.5 to 2.7 gigatons CO2. This would avoid more than $3.7 trillion in damages from climate change. To tackle this issue, attracting private capital at scale is key.
In 2017, commissioned by the Blended Finance Taskforce, KOIS conducted an in-depth study on SLU with two aims. First, to highlight SLU investment opportunities for the private sector. Secondly, to demonstrate the essential role of blended finance instruments in unlocking these opportunities.
The working paper was released in January 2018 and outlines a spectrum of SLU investment opportunities. It includes options both for private and public investment. Furthermore, they hold attractive risk-adjusted returns, from quick wins to medium and long-term opportunities. All opportunities are put forward with specific needs in terms of blended finance.
For sustainable land use to reach scale and deploy its full mitigation potential, private sector investors need to adopt higher risk and more patient investment profiles. These are inherent to the sector. In return, they will be able to capture significant value from long-term growth enabled by catalytic blended finance tools from public and philanthropic funds.
Discover our other projects
BeCode aims to tackle the digital skill gap and unemployment issue all at once. By offering intensive digital training to vulnerable populations, this Belgian NGO already managed to put 65% of its trainees back to work.
From 2020 to 2025, BeCode will receive financing through a Social Impact Bond structured by KOIS. Actiris, the Brussels Employment Agency, will act as the outcome funder. The funding will support the training an additional 450 beneficiaries, with a focus on non-EU immigrants and women.
GIST Impact is a technology enabled impact measurement company. Their mission is to become the world's leading Analytics, Solutions and Insights firm. This way, they want to help their clients discover, measure, value and manage their externalities' impact, and thus make more sustainable decisions.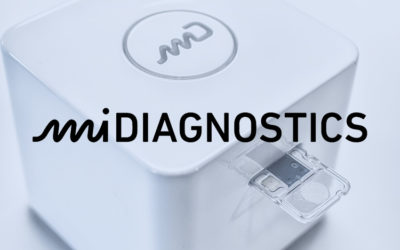 Today, ensuring a fast diagnosis of the high number of patients to avoid transmission is critical. Unfortunately, diagnoses are highly time-consuming and hard to get for people in more remote areas. In fact, most accurate diagnostics require drawing blood, sample preparation & lab work. This can result in a long time between testing & treatment. It also means patients cannot be followed-up at home and that carrying out fast & accurate testing in the field is very difficult.