Partnerships for good: How corporates & social companies can align for social & environmental impact
November 30, 2017
Project details
The world's most pressing challenges, from addressing climate change to ensuring decent work for people, are too great for single institutions to solve alone. In response to this, KOIS, Kite and Sattva spoke to experts across the range of social impact partnerships. We created a framework to help understand what makes a successful impacta partnership.
Creating the right partnerships between social enterprises and corporations
Commissioned by de Pury Pictet Turrettini & Cie's CADMOS engagement fund, we sought to understand what makes successful impact partnerships. Our research added a new wrinkle on an old challenge. How can corporations get the most bang for their buck when partnering with social enterprises?
Leading corporations recognise that dealing with social and environmental issues comes with the territory when running a global operation. But global challenges can't be solved by working in isolation. Effective and long-lasting solutions require partnerships – drawing on the unique strengths of different organisations. By bringing their complementary strengths and values to a partnership, corporates and social enterprises can achieve far more impact together. Whether creating jobs for underserved populations, encouraging more efficient use of natural resources or improving access to food and water for marginalised communities.
But these partnerships can be challenging, and getting the most from partnership requires a deep holistic alignment between partners. Together with Kite Global Advisors and Sattva, we spoke to experts and practitioners across the range of social impact partnerships.
The result was the Partnership For Good report. Existing research pointed us towards best practices that worked for some, but not for all. So we conducted dozens of interviews with additional experts and practitioners from across the field of social enterprise engagement. What emerged was not a clear and linear to-do list but rather a new framework for understanding the attributes of a partnership to help achieve alignment between and within corporates and social enterprises.
Special thanks to de Pury Pictet Turrettini & Cie's Cadmos Engagement Funds for commissioning this report.
Discover our other projects
BeCode aims to tackle the digital skill gap and unemployment issue all at once. By offering intensive digital training to vulnerable populations, this Belgian NGO already managed to put 65% of its trainees back to work.
From 2020 to 2025, BeCode will receive financing through a Social Impact Bond structured by KOIS. Actiris, the Brussels Employment Agency, will act as the outcome funder. The funding will support the training an additional 450 beneficiaries, with a focus on non-EU immigrants and women.
GIST Impact is a technology enabled impact measurement company. Their mission is to become the world's leading Analytics, Solutions and Insights firm. This way, they want to help their clients discover, measure, value and manage their externalities' impact, and thus make more sustainable decisions.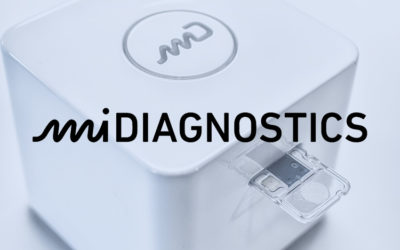 Today, ensuring a fast diagnosis of the high number of patients to avoid transmission is critical. Unfortunately, diagnoses are highly time-consuming and hard to get for people in more remote areas. In fact, most accurate diagnostics require drawing blood, sample preparation & lab work. This can result in a long time between testing & treatment. It also means patients cannot be followed-up at home and that carrying out fast & accurate testing in the field is very difficult.