Project details
Although the healthcare sector in Kenya is fast-growing and demand for healthcare services is strong, accessibility, affordability and quality of care remains a key issue across the full continuum of care. As Kenya develops, it needs to strengthen its healthcare system to address increased demand and more complex healthcare needs. In this context, Johnson & Johnson mandated KOIS to articulate its new impact investment thesis in Kenya.
Impact investing to fill kenya's healthcare financing gap
In Kenya, public funding covers only 34% of the total healthcare expenditures. The government policy thus explicitly supports private sector involvement in the healthcare sector. To meet the increased demand, there is an estimated funding gap of US$ 1.4Bn per annum.
These challenges represent an opportunity for market-based solutions to transform the healthcare system in Kenya. These could receive funding through grant financing, impact-first or finance-first investment. The Johnson & Johnson's Global Community Impact (J&J GCI) team partnered with KOIS to articulate its new impact investment thesis. The result will guide their investment activities in Kenya. Additionnally, it will serve as a blueprint for its overall impact investment strategy in other countries.

of Kenyans have access to public healthcare facilities within one hour of their homes
less than 50% of health facilities in Kenya have basic amenities to provide healthcare services
of Kenyans spend over 40% of non- food expense on healthcare
Defining Impact investment opportunities in Kenya's Healthcare system
In a first phase, KOIS proceeded to a detailed analysis of the Kenyan macroeconomic and healthcare sector. Based on this, KOIS conducted a detailed landscape analysis of investment opportunities in Kenya. The analysis was made both on the demand side (i.e., what are the most promising business models with potential for scale and transformation, and what are their financing needs) and the supply side of capital (i.e., which instruments do we need to fill the identified financing gaps).
KOIS supported J&J GCI in defining its vision for success in Kenya and how it considers its strategy (impact-first vs. finance-first investing, early-stage vs. growth-stage enterprises, etc.). KOIS also analyzed both overall social impact and investment attractiveness of projects. From this research, we prioritised investment opportunities in alignment with J&J GCI's impact investment thesis. In 2019, J&J GCI invested in two of them.
The first investment supported the expansion of a maternal health hospital in Nairobi. The hospital offers high-quality and affordable care to more than 25,000 patients per year. It also ensures over 1.500 safe deliveries annually.
The second investment supported a primary healthcare facility serving low-income flower farm workers and communities in rural Kenya. In these communities, the incidence of preventable diseases is high and there is a limited amount of quality healthcare options.
Discover our other projects
BeCode aims to tackle the digital skill gap and unemployment issue all at once. By offering intensive digital training to vulnerable populations, this Belgian NGO already managed to put 65% of its trainees back to work.
From 2020 to 2025, BeCode will receive financing through a Social Impact Bond structured by KOIS. Actiris, the Brussels Employment Agency, will act as the outcome funder. The funding will support the training an additional 450 beneficiaries, with a focus on non-EU immigrants and women.
GIST Impact is a technology enabled impact measurement company. Their mission is to become the world's leading Analytics, Solutions and Insights firm. This way, they want to help their clients discover, measure, value and manage their externalities' impact, and thus make more sustainable decisions.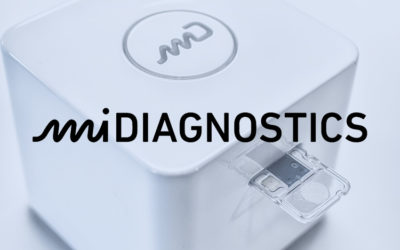 Today, ensuring a fast diagnosis of the high number of patients to avoid transmission is critical. Unfortunately, diagnoses are highly time-consuming and hard to get for people in more remote areas. In fact, most accurate diagnostics require drawing blood, sample preparation & lab work. This can result in a long time between testing & treatment. It also means patients cannot be followed-up at home and that carrying out fast & accurate testing in the field is very difficult.