About the company
Great Learning is an ed-tech company. They offer digital learning programmes in the critical competencies needed for career advancement in the digital world. Their mission is to enable career success in the digital economy by enabling professionals to achieve successful career progression. KOIS invested in Great Learning in 2019, as part of its commitment to advance education & employment opportunities for all.
Great Learning's inception year
Targets tech and IT professionals, and fresh graduates
Available online and in classrooms in Bangalore,
Chennai, Delhi, Mumbai
Accelerating career progression with market-relevant learning
In 2019, KOIS invested in Great Learning, convinced by its innovative platform for blended courses in the latest tech-related fields. KOIS believes such services can help bridge the skill gap between tech professionals and the rapidly changing needs of the job market in India.
Great Learning provides an opportunity for IT/Tech professionals and fresh graduates to accelerate their career progression. Through outcome-linked, market relevant digital learning, users can enhance their employment opportunities. This can strongly benefit millions of tech professionals & graduates in India.
Great Learning's digital learning platform aims to empower working professionals to develop competencies to accelerate their career progression. And it has already shown great success. In fact, thousands of professionals globally have already benefited from Great Learning's programmes. They allow professinals to build competencies in emerging areas such as Analytics, Data Science, Big Data, Machine Learning, Artificial Intelligence, Cloud Computing, DevOps, Full Stack Development. This, in turns, improves their job security and career advancement opportunities.
Great Learning believes that the only way professionals can keep up with the rapidly changing business world is through continuous learning. In this context, the company aspires to be their life-long learning partner. Unlike purely self-service offerings, its model involves aided learning. Learners receive support through the learning process, which results in better learning outcomes.
career transitions within 6 months of programme completion
average salary hike upon programme completion
Note: Last updated April 2020
Discover our other projects
BeCode aims to tackle the digital skill gap and unemployment issue all at once. By offering intensive digital training to vulnerable populations, this Belgian NGO already managed to put 65% of its trainees back to work.
From 2020 to 2025, BeCode will receive financing through a Social Impact Bond structured by KOIS. Actiris, the Brussels Employment Agency, will act as the outcome funder. The funding will support the training an additional 450 beneficiaries, with a focus on non-EU immigrants and women.
GIST Impact is a technology enabled impact measurement company. Their mission is to become the world's leading Analytics, Solutions and Insights firm. This way, they want to help their clients discover, measure, value and manage their externalities' impact, and thus make more sustainable decisions.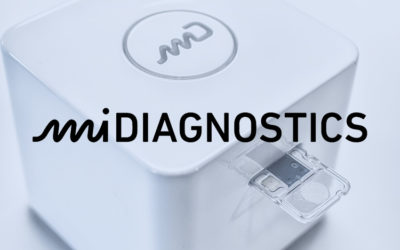 Today, ensuring a fast diagnosis of the high number of patients to avoid transmission is critical. Unfortunately, diagnoses are highly time-consuming and hard to get for people in more remote areas. In fact, most accurate diagnostics require drawing blood, sample preparation & lab work. This can result in a long time between testing & treatment. It also means patients cannot be followed-up at home and that carrying out fast & accurate testing in the field is very difficult.