About the company
Purpose builds and supports movements that advance the fight for an open, just and habitable world. They use tools such as storytelling and public movements to help organizations, activists, and more. KOIS invested in Purpose in 2011 because we believed in its capacity to enable positive change. In 2020, Purpose joined Capgemini Group and KOIS made a successful exit from Purpose.
Targets citizens and organisations throughout the world
Creating movements to help tackle our world's challenges
Purpose builds movements and new power models from the bottom up to tackle the world's problems, using technology as an innovative means for freedom of speech and organised actions. Through public mobilisation and storytelling, it helps leading organisations, activists, businesses and philanthropists in their fight for a better world.
Its clients have included Unilever, Oxfam and UNICEF. It is also a B-Corp certified company.
Similarly to Change.org, KOIS invested in Purpose because its approach to mobilising citizens and consumers around the world has the potential to create more enabling environments, in particular at the regulatory level, to foster societal and environmental change, which underpins other activities of our impact portfolio.
At the start of 2020, the company was acquired by Capgemini Group, operating as an independently run Public Benefit Corporation. KOIS thus made a successful exit from Purpose in January 2020.
organisations involved with the project (clients, partners, etc.)
organisations whose social missions were developed or advanced
Note: Last updated April 2020
Discover our other projects
BeCode aims to tackle the digital skill gap and unemployment issue all at once. By offering intensive digital training to vulnerable populations, this Belgian NGO already managed to put 65% of its trainees back to work.
From 2020 to 2025, BeCode will receive financing through a Social Impact Bond structured by KOIS. Actiris, the Brussels Employment Agency, will act as the outcome funder. The funding will support the training an additional 450 beneficiaries, with a focus on non-EU immigrants and women.
GIST Impact is a technology enabled impact measurement company. Their mission is to become the world's leading Analytics, Solutions and Insights firm. This way, they want to help their clients discover, measure, value and manage their externalities' impact, and thus make more sustainable decisions.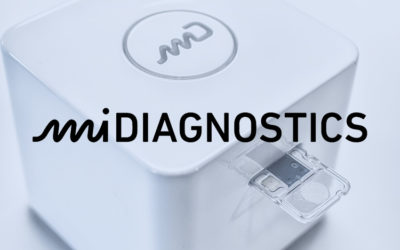 Today, ensuring a fast diagnosis of the high number of patients to avoid transmission is critical. Unfortunately, diagnoses are highly time-consuming and hard to get for people in more remote areas. In fact, most accurate diagnostics require drawing blood, sample preparation & lab work. This can result in a long time between testing & treatment. It also means patients cannot be followed-up at home and that carrying out fast & accurate testing in the field is very difficult.