Project details
In 2016, it was estimated that over 2.6 million refugees live in camps for over 5 years. In this context, they depend on humanitarian organizations for shelter, sanitary facilities, and more, services which can be expensive and often harmful to the environment. In this context, KOIS delivered a feasibility study to demonstrate the potential of setting up a multi-hundred million dollars leasing facility for the humanitarian sector with a primary focus on solar energy.
Designing better and more sustainable solutions for the humanitarian sector
In 2016,
more than 65 million people were forcibly displaced from their homes
, of which 11.6 million for more than 5 years and 2.6 million living in refugee camps for over 5 years. In this context, humanitarian organisations typically provide aid material assistance in terms of shelter, energy and WASH for instance.
Unfortunately, these are usually not adapted to protracted displacement: they are expensive, harm the environment and provide poor living conditions when used over extensive periods of time. More sustainable solutions exist (e.g. solar PV systems) and have a high potential from both a cost-saving and social/environmental impact perspective.
However, they require a higher upfront investment, which do not meet the budgetary constraints of humanitarian organisations. Annual budgets cycles and ad-hoc fundraising from donors prevent humanitarian agencies from committing to multi-year financing agreements and to purchase long-term assets with higher upfront costs, as they take several years to recoup. Yet, they generate significant cost-savings. In addition, although donors have never been as generous as today, the humanitarian financing gap is estimated at around US$ 15bn.
A Blended finance solar-facility leasing mechanism
As a consequence, there is a general call for private sector to help bridge the financing gap through innovative financing mechanisms. A leasing mechanism would allow spreading high upfront costs over multiple years, thereby making it possible for humanitarian organisations to procure longer-term assets that provide enhanced services and generate cost-savings over the years, while complying with their budget constraints thanks to the yearly payments. This would also help bridge the humanitarian-development nexus.
Back in 2017, our feasibility study demonstrated the potential to set up a multi-hundred million dollars leasing facility for the humanitarian sector with a primary focus on solar-powered pumping installations and (hybrid)
solar electricity production for camp offices and infrastructure. Today, we see that this approach also applies for electricity access in rural setting, greening of NGOs offices or water infrastructure investments. Were the humanitarian sector to step in into blended finance on
this, it would save millions every year, and improve its
social impact and environmental footprint.
Humanitarian crises have become increasingly protracted in nature. Yet, humanitarian organisations have yearly budgets that prevent them from planning for multiple years. Innovative finance can help humanitarian agencies overcome this budgetary constraint and provide more cost-efficient and adapted services to displaced populations.
Discover our other projects
BeCode aims to tackle the digital skill gap and unemployment issue all at once. By offering intensive digital training to vulnerable populations, this Belgian NGO already managed to put 65% of its trainees back to work.
From 2020 to 2025, BeCode will receive financing through a Social Impact Bond structured by KOIS. Actiris, the Brussels Employment Agency, will act as the outcome funder. The funding will support the training an additional 450 beneficiaries, with a focus on non-EU immigrants and women.
GIST Impact is a technology enabled impact measurement company. Their mission is to become the world's leading Analytics, Solutions and Insights firm. This way, they want to help their clients discover, measure, value and manage their externalities' impact, and thus make more sustainable decisions.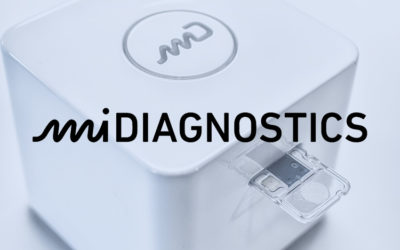 Today, ensuring a fast diagnosis of the high number of patients to avoid transmission is critical. Unfortunately, diagnoses are highly time-consuming and hard to get for people in more remote areas. In fact, most accurate diagnostics require drawing blood, sample preparation & lab work. This can result in a long time between testing & treatment. It also means patients cannot be followed-up at home and that carrying out fast & accurate testing in the field is very difficult.