Project details
Mental illness constitutes one-sixth of all health related disorders in India. In fact, India accounts for nearly 15% of the global mental, neurological and substance abuse disorder burden. Yet, there is a 90% treatment gap for those living with mental illness in India. In this context, KOIS is researching how innovative finance could help improve treatment standards and adherence for mental health patients.
Treament delays and low adherence: how can innovative finance help?
Low health seeking amongst mental health patients is a result of low intent to seek care, lack of awareness about how to do so and poor access to affordable diagnosis. Patients or their communities only seek help in time if the symptoms are too debilitating or unsafe to others. Additionnally, the high reliance on faith healers can lead to a delay in treatment.
In the end, ~40-50% of patients stop their care among severe mental disorders patients. In case of depression, the number goes up to 67%. Poor adherence to treatment is a result of many factors. For instance: low motivation, poor access to affordable treatment and perceived ineffectiveness of treatment. Furthermore, low adherence increases with the high financial opportunity costs that go along with treatment. In fact, patients have to take into account the cost of missing work and travelling.
KOIS was commissioned to explore if innovative finance has the potential for scaling effective solutions. In this context, blended finance could help in finding new and innovative ways to conduct service delivery. Through innovative finance, a collaboration could also be established with health workers and communities affected.
of the Indian population suffers from some form of mental illness
of severe depression patients stop their care
Mental health is extremely stigmatized in India and there is a serious lack of knowledge. People are hesitant to consult a psychiatrist as that could lower their chances of marriage. The psychiatrist per lakh population ratio in India is also very low, which leads to poor accessibility and increased need to travel long distances to seek help. All these factors impede treatment quality and adherence. However, blended finance could potentially offer innovative and comprehensive solutions to these issues.
Discover our other projects
BeCode aims to tackle the digital skill gap and unemployment issue all at once. By offering intensive digital training to vulnerable populations, this Belgian NGO already managed to put 65% of its trainees back to work.
From 2020 to 2025, BeCode will receive financing through a Social Impact Bond structured by KOIS. Actiris, the Brussels Employment Agency, will act as the outcome funder. The funding will support the training an additional 450 beneficiaries, with a focus on non-EU immigrants and women.
GIST Impact is a technology enabled impact measurement company. Their mission is to become the world's leading Analytics, Solutions and Insights firm. This way, they want to help their clients discover, measure, value and manage their externalities' impact, and thus make more sustainable decisions.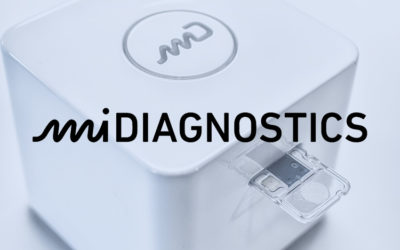 Today, ensuring a fast diagnosis of the high number of patients to avoid transmission is critical. Unfortunately, diagnoses are highly time-consuming and hard to get for people in more remote areas. In fact, most accurate diagnostics require drawing blood, sample preparation & lab work. This can result in a long time between testing & treatment. It also means patients cannot be followed-up at home and that carrying out fast & accurate testing in the field is very difficult.