It feels as if we are in the midst of a war. Lockdowns and prime-time prime ministerial addresses. Production ramp-ups and scientists racing against time. Only this time, we are fighting against invisible armies, and as the pithy character in the zeitgeist movie 'Contagion' says, "the virus is adapting to us faster than we are to it". A minor correction though – we may be in the midst of only the first of many battles in this war, and missing the forest for the trees. An increasingly interconnected world and ponderous governments made for a perfect pandemic recipe, and epidemiologists argue that this will not be the last time we face a similar situation again.
The current pandemic has provided countless lessons and clues on how we could prepare better for the future. It has unearthed or reinforced consumer behaviors and actions which may fundamentally alter healthcare as we know it. We foresee existing players altering their business models and new players entering with novel models that not only are pandemic-resilient in themselves but also increase the overall resilience of health systems. We discuss some of these healthcare models in this article without any claims to being comprehensive or prophetic. We also confine ourselves to the South Asian healthcare ecosystem, and quite specifically India at times, to provide depth at the expense of breadth and also serve as an illustration for similar markets across the developing world.
In the spirit of not missing the overarching war for the battles, we reiterate three points before moving further:
While we cover six models in this review, there could be many more that are equally relevant and may be even more relevant for the healthcare of the future. However, this article only focuses on business models that are currently disruptive and that also offer attractive financial returns.
We have also highlighted the significant role of the Government which may be crucial in nurturing these fledgling models early in their life cycles.
COVID-19 and subsequent pandemics may rule our current attention, but broader health challenges remain. Developing countries in particular, still have an uphill task of handling communicable diseases including tuberculosis and HIV/AIDs, along with rapidly rising non-communicable diseases like hypertension and diabetes. Healthcare business models will have to evolve in order to continue addressing these broader issues.
The future of healthcare in a post-COVID-19 world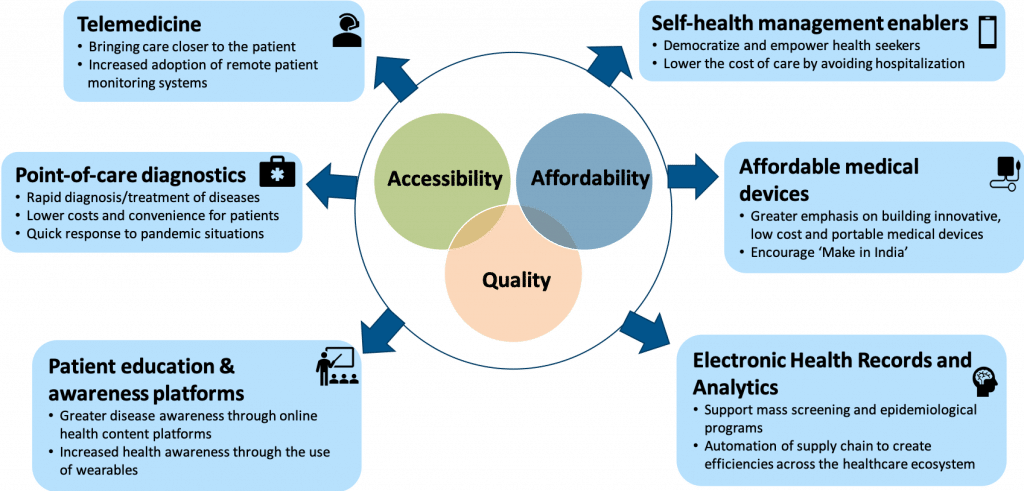 1. Telemedicine
Though the promise of telemedicine has been around for a decade or so, its time appears to be finally here.
TeleconsultingTeleconsulting solves two key issues that plague Indian healthcare: uneven distribution of healthcare professionals (concentrated in cities) and financial barriers to care. Banking on the telecom revolution of the past three years, teleconsulting was seeing a steady uptake in semi-urban and rural India offering patients the ability to consult with doctors in urban areas at low costs. Further, teleconsulting also allowed doctors to widen their reach and increase productivity.
During COVID-19, teleconsulting has seen increased demand from these segments. It has also helped urban patients get connected to their doctors with "anytime, anywhere" consultations for follow-ups and second opinions. Many hospital chains have adopted this technology for their outreach to existing patients during this lockdown. Demand for mental health services has also seen a rise from the projected increase in mental health issues related to the prolonged confinement during COVID-19. Mental health consultations, where telemedicine offers a refuge from the unfortunate stigma of a visit to the psychiatrist, have also seen a surge in demand.
In the post lockdown scenario, hospitals could continue to offer this solution as an alternative to patients for follow-ups, thereby reducing stress on the existing infrastructure. We also envision that the repeated use of teleconsulting during the lockdown will create lasting changes in the attitude of patients and doctors towards telemedicine and finally make it mainstream.
Tele-ICU/e-ICU models
An e-ICU is a transformative critical care unit (CCU) program that combines audio visual technology, predictive analytics, data visualization and advanced reporting capabilities to deliver critical information to remote caregivers. If COVID-19 numbers continue to rise, India will run out of highly trained critical care personnel before it runs out of ventilators. This solution will help address the shortfall of clinical manpower in the present crisis with significant need for critical care and ventilation capabilities.
The role of Government
The lack of clear guidelines and regulatory framework was a key factor in telemedicine's stunted growth so far. The Government's release of a formal set guidelines for telemedicine during COVID-19 has given this sector a significant push. Clarifications on e-prescriptions and interstate validity of consultations will help in further propagating these models.
2. Point Of Care Diagnostics
Point-of-care (POC) diagnostic devices help in providing diagnostic tests at the point where the patient receives their care, i.e. at the doctor's clinic or in the field by the frontline health worker instead of the laboratory. They can increase geographical access, lower costs, and also achieve lower turnaround times, thus enabling faster clinical decision-making. POC devices can also be used in ICUs to diagnose infectious agents faster and plan treatment regimes immediately without dependence on central labs.
POC devices will be very useful in the coming days as Governments conduct contact tracing, screening at entry points like airports, and mass screenings for high-probability populations. These devices can also be connected to a central monitoring facility to track, validate, analyse and archive test results. As evidenced by COVID-19, the key success factors in point-of-care diagnostics have been the ability to rapidly develop, test, and get regulatory approvals. However, the ability to manufacture these diagnostic tests at scale, respond to rapid rises in demand like pandemics, and keep the cost of manufacturing low will be crucial differentiators as the segment matures.
In addition, the current focus on developing POC rapid diagnostic tests for COVID-19 could provide the impetus to developing a series of such devices and tests for other infectious and non-infectious diseases. In the medium-term, doctors' offices could have POC devices that diagnose a range of conditions including anemia, respiratory infections, and tropical diseases in 15-60 minutes, allowing doctors to treat patients in the same visit. For example, Molbio, an in-vitro diagnostics company has developed a molecular diagnostics platform for diagnosing a wide range of infectious diseases.
The role of Government
With diagnostics players scrambling to receive certifications by navigating complex and opaque Government processes, COVID-19 has brought to the fore the lack of a robust certification process at the national level. An indigenous certification process is the need of the hour to support India's emerging POC market.
3. Affordable Medical devices
India relies heavily on the import of medical technology products which are designed for developed markets, not necessarily to a higher quality but with better and more features. In addition to a higher price, there are other challenges in adoption of these products such as language barriers, ease of use and connectivity.
"Make-in-India" manufacturers spend significant resources and time in receiving USFDA or EU CE certifications to realize their commercialization potential. On the demand side, doctors have also shown some reluctance in moving from renowned global manufacturers to home-grown brands. However, the disruption of supply chains from China and surge in demand for products such as Personal Protective Equipment (PPE), patient monitoring devices, and ventilators has shown the need to strengthen the domestic medical device manufacturing sector.
Over the next few years, local start-ups that deploy frugal innovation techniques to manufacture affordable and high-quality devices will get a significant boost. These companies have the potential to create solutions not just for India, but also for all of the developing world. Some of the front runners on this front include:
Indigenous ventilators: India has only about 25,000-30,000 ventilators currently against the 130,000-odd ventilators estimated to be needed for managing COVID-19. Agva, an Indian start-up that has been at the forefront of manufacturing affordable and easy-to-use ventilators has tied up with automotive giant Maruti to ramp up their manufacturing.
Ophthalmology devices: Remedio, a Bangalore-based company has developed an integrated hardware and AI-based platform for the screening and diagnosis of preventable blindness, for which it has already received FDA and CE approvals. These devices will help in mass screening programs, enabling the early detection and treatment of diabetic retinopathy.
The role of Government
India could pave the way for medical devices specifically designed for developing countries. This can be achieved by building a certification authority with rigorous but navigable protocols and processes to foster the necessary standing among the medical community across these countries.
Additionally, medical device manufacturers are currently dependent on global markets for many core components and reagents. Despite the current wisdom that supply chains will have to become localized to avoid overdependence on China, we foresee a revert to business-as-usual. Supply chains are not driven by nationalism but by unstinting capitalism, and the Government needs to step in with nuanced and transitory import duty and taxation regimes to develop a robust indigenous sector. While doing so, the Government needs to focus strategically on fostering specific segments without negatively distorting markets.
4. Electronic Health Records (EHR) and Analytics
Data unification and homogenization via EHR has improved the communication between various healthcare providers and patients, thus improving the overall quality of care. This may eventually lead to decentralisation of patient health records using blockchain technology, which will provide patients with seamless access to their records.
Big Data analytics, along with cloud computing, has enabled the application of clinical insights derived from the analysis of healthcare data. Analytics can also provide insights into the early detection of diseases. THB*, a Gurgaon-based healthcare start-up has created a unique database of about 500,000 clinical microbial culture samples with antibiotic sensitivity patterns from across the country. This can help hospitals in evolving a rational antimicrobial stewardship program, thereby ensuring better clinical outcomes for patients.
Digitization and real-time analytics have far bigger implications in epidemiological monitoring and the early identification of emerging hotspots. This use-case has understandably received more focus during the COVID-19 pandemic: by collating anonymized data across thousands of private labs and hospitals, analytics can identify and highlight emerging foci of cases of vector-borne infections like dengue and malaria, thereby enabling proactive interventions before these turn into outbreaks.

The role of Government
Vector-borne and zoonotic disease outbreaks are public health issues that can only be tackled by the Government. In health systems like India, which are dominated by private sector players, Governments should provide financial incentives for private-providers to report cases and deploy analytics. Governments should also expand on their existing health data privacy frameworks and create more specific and balanced guidelines in light of the tussle between patient privacy and public health priorities especially in the context of COVID-19 containment.
5. Patient education and awareness platforms
Digital platforms help consumers find curated health-related information, enabling them to make more informed decisions about their health and thereby democratizing healthcare. In health systems that offer low patient empowerment, have overburdened healthcare providers, and extremely short consultation times, these platforms allow patients to seek healthcare at their own pace and support informed decision-making. These platforms either generate their own content or are content aggregators. Along with English language providers, numerous vernacular content providers have sprung up over the past few years to cater to a highly diverse Indian market.
The relevance of these platforms has been further strengthened during the current COVID-19 situation. Most people with access to smartphones are now able to get health-related content and preventive measures through e-platforms like the Aarogya Setu app. The importance of credible sources of health information cannot be understated in the COVID-19 context when misinformation easily propagates in social media, whatsapp groups, and even news media.
While the market for health education is vast, providers are yet to identify substantial monetization opportunities. Many content platforms like Lybrate have been able to monetize their platform by partnering with pharma companies and selling health-related products and services.
6. Self-Health management enablers
Digital therapeutics (DT) and smart wearables that complement clinical care have been slowly but steadily gaining acceptance in India. DT apps provide real-time health guidance on key areas such as diet and exercise to dynamically manage blood glucose/ pressure levels, enabling better clinical outcomes. Smartwatches and fitness apps have the ability to measure and record health data – including body vitals, sleeping patterns and physical activity. This data can indicate disease progression or disease likelihood thereby transform healthcare from merely 'reactive' to 'preventive'.
In the wake of the current pandemic, people have become more health-conscious, visible through the surge in sales of digital thermometers and glucometers. This behavioural change is likely to continue, especially for chronic diseases such as diabetes and hypertension. However, this transformation is still evolving and could be accelerated by an increase in the adoption of tele-consulting (model 1).
Early adoption of DT may come from chronic patients, who seek follow-up care and have until now traveled long distances from peri-urban areas to urban clinics. These patients can be assisted by DT apps along with regular teleconsultations. In their current form, DT apps require human involvement to guide patients through their disease journey and make relevant lifestyle and medication modifications. We believe that, in the medium term, these models will need to find ways to accelerate the accumulation of large enough health datasets to create predictive algorithms which would eliminate the need of human involvement altogether.
Conclusion
In summary, these technologies will make healthcare more personalized, accessible, and affordable. However, governments also need to play a role in unlocking the potential of these technologies. There is no doubt that COVID-19 will leave a significant imprint on how healthcare is funded and financed, provided and consumed. But, with great challenges, come great opportunities. Evidence suggests that the most resilient businesses emerge in times of recession. Hopefully, we will be better prepared when (we hope it's an 'if') a pandemic occurs again. Hopefully, we do not forget the lessons we have learnt over the past few weeks.
---
* THB is an investee of KOIS and HealthQuad
About the authors
Dr. Pinak Shrikhande is a Principal at HealthQuad, an healthcare focused venture capital fund co-funded and co-managed by KOIS.
Dr. Prabu Thiruppathy is a Principal at KOIS